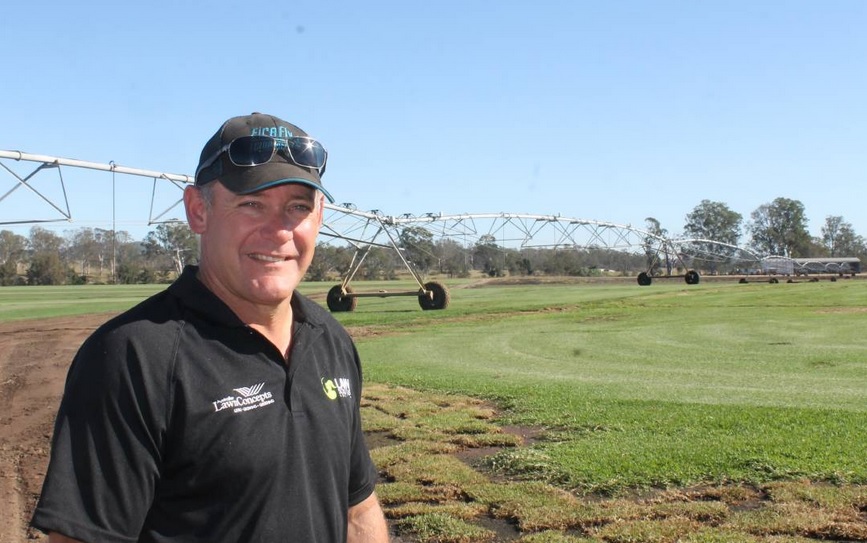 You can check out our recent article 'Turf farmer trials automated irrigation' in The Beaudesert Times here:
www.beaudeserttimes.com.au/story/3903399/turf-farmer-trials-automated-irrigation/
Extract:
A NEW computer operated irrigation pivot has been trialed on the Scenic Rim to improve practical and environmental efficiency.
The variable rate irrigation (VRI) system has GPS receivers on the sprinklers and using a phone, tablet or computer the individual sprinkler pressures can be adjusted according to the area.
VRI systems can be fitted on new irrigation systems or retrofitted to existing ones.
Boyland turf farmer John Keleher has started trialing the new technology and said the VRI system is particularly handy for turf farming.
Mr Keleher said turf is different to most crops because harvesting is entirely based on consumer demand.
"We can't just plant everything at once and harvest at once," he said.
"We need to keep turf growing where we haven't cut and keep water off the areas we have cut."
A lot of water is used in turf farming which puts pressure on farmers to save water where they can.
Before he automated his irrigation system Mr Keleher said there was someone manually monitoring the sprinklers most of the time.
"It was very labour intensive and after a while the labour doesn't become very willing," he said.
"It was ineffective because sometimes we would need to change it at two in the morning."
Bob Dover from Dover and Sons said Mr Keleher's VRI system is the first one they have installed.
Mr Dover said it is early days so they are yet to see any faults in the technology however he can see it benefiting other farming industries on the Scenic Rim.
"Anywhere that has different soil types or hills you can plot that all that in the computer and adjust your water pressure accordingly," he said
Mr Dover said the VRI technology is widely used in New Zealand for growing pasture and in South Australia for growing potatos.
End Of Extract.